ISO 27001:2013 Certification
Being ISO (International Organization of Standards) 27001 certified, demonstrates your organization takes the necessary steps to reduce the risk of a data breach. ISO is applicable to all organizations, of every type and size with the nature of business being irrelevant. Because of this key feature, it is used worldwide by internal and external parties to help assess an organization's ability to meet its information security requirements.
Certification takes the amount of time that you give it; therefore, it is important an organization has top management's commitment. Ultimately, having an ISO certification will help organizations maintain a competitive advantage within their market.

Certification Process
It takes about seven months for a certificate to be obtained by an organization and three years for it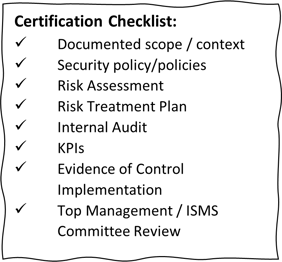 to mature. At the beginning of the process, a cross-organizational team is put together as an ISMS (Information Security Management System) committee or council. This committee is responsible for laying the framework of this endeavor. Within the first three months, the committee is responsible for approving all ISMS activities, approving risk treatments, and communicating changes to their respective team. Semper Sec recommends conducting the risk assessment early in the process to understand and account for all organizational requirements. In parallel, policies and procedures agreed upon will need to be implemented and managed.
Audit Cycle
Year 1:

two-stage audit that covers all clauses and controls; certificate issued

Year 2:

surveillance audit that covers all clauses and 50% of controls

Year 3:

surveillance audit that covers all clauses and 50% of controls

Year 4:

recertification
During the audit phase, ISO clauses are of utmost importance. Typically, this is what the auditor may spend most of their time on. If you do not have the clauses correctly implemented, you will not pass go! There are 10 mandatory clauses that act as the foundational requirements for planning, operating, monitoring, and improving the ISMS, along with 114 controls. Usually, the IT (Information Technology) department is held accountable for inputting the technical controls.
Certification Benefits
Improves your sales process by validating your reputation and allowing customers to trust you with their data / sensitive information.
Helps scale the business by allowing it to grow more efficiently; for instance: the onboarding / offboarding of personnel will be a more seamless process.
Aligns and improves efficiency, meaning companies will be capable of independently assuring and maintaining their internal controls. Not only does this help make processes more efficient, like "single sign-on", but it helps to align company policy.
Acts as a factor in cyber insurance, helping to show your due diligence effort if a breach occurs.